The Lake Trails offer a piece of Finland's most beautiful nature and an unforgettable trip for all nature lovers - hop on a bike and travel to enchanting peace surrounded by green forests and crystal clear waters.
Discover the best of Finnish countryside travel by bike along the Lake Trails
A bike ride into the tranquil countryside, with the wind sailing through your t-shirt and the sunshine twinkling in your eyes. Board a boat and from the deck, watch the rippling waves. Soon you'll arrive. Follow a crunchy gravel path leading to a farmstead, where cosy accommodation and the call of a lakeside sauna await you. In the meadow, a herd of hoofed animals will greet you, and from the edge of the woods, you'll hear the sweet melody of birdsong. A warm meal awaits your arrival, and soon you'll be able to enjoy a traditional Finnish sauna experience and a refreshing dip in the cool waters of the lake.
You can experience all this along the Lake Trails – shall we go?
Along the Lake Trails, you will find several different routes of varying lengths where you can enjoy the magnificent lake landscapes of Pirkanmaa, complete with saunas, exciting experiences on the waves, and rural gems with services. You can conveniently embark on your journey directly from the heart of Tampere – welcome to a natural paradise where beauty and tranquillity meet.
Enjoy the planned routes entirely on your bicycle or combine them with train and boat connections for your adventure, the choice is yours. You can also plan and customize your trip using the route planner below!
Discover the magnificent history of the area, as well as a collection of national artists, celebrities and interesting stories!
Travel tips and star destinations
Combine boat and train connections as part of your adventure!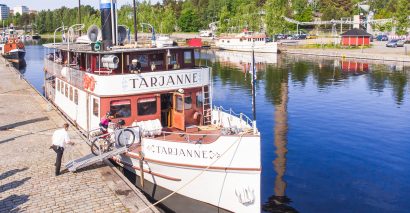 Buy your ticket in advance from the online shop or from the Hopealinjat office in Tampere at Laukontori 10. The ticket is available for any route trip and segment….
Take your bike along and hop on a train!
Bicycles can conveniently be brought along on almost all domestic long-distance and commuter trains. For InterCity trains, it is necessary to reserve a separate spot for your bike in advance…
What would you think of taking a sauna in a yurt this summer?
We have gathered dozens of different saunas onto the maps of each route! Now you can choose whether you want to enjoy a barrel sauna, a yurt sauna, a beach sauna, a sauna on a boat (yes – there are saunas on them too), a smoke sauna, a log sauna, or any of the numerous other sauna options along the different routes of the Lake Trails.
You can find all the saunas by going to the map of your chosen route and clicking on "saunas".